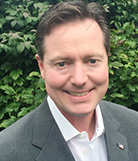 John Byrne is a licensed agent with Max Broock Realtors in Birmingham, Michigan. When you work with John you find a caring and conscientious advocate who ensures your priorities are his main concern. He truly listens to your needs and desires and uses the most current technology to help you find the home of your dreams, sell your current home, or both, always in a manner most beneficial to you.
John is dedicated to providing you with the best experience possible. As such, he is a life-long learner who continuously seeks to increase his knowledge of the real estate industry and the areas where his clients live, work and play. John will remain in constant contact with you throughout the journey of your real estate search, sale, purchase and move. He will be there to assist you all along the way. John has devoted his life to service personally and professionally in both the public and private sectors.
He is a member of the North Oakland County Board of Realtors and the National Association of Realtors. He is a veteran of the United States Army and a member of the American Legion. He belongs to the University of Detroit Jesuit High School and Academy Dad's Club and has coached CYO Athletics for many years.
On a personal note, John is a native of southeast Michigan, where he currently lives with his wife and four children. He enjoys an active lifestyle with his family, playing golf, boating and traveling. Whether you want to buy or sell, please reach out to John for a genuinely personal and professional real estate experience!